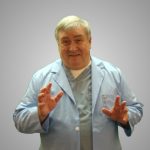 Every day, after the residents and I have finished our working rounds on the patients, I'll meet with you for Teaching Rounds.
I'll discuss some of the patients, and how they ended up in the hospital. I'll explain how we diagnosed the problem, and how we worked to resolve the problem. In some cases, our initial strategy didn't work out, so I'll discuss how we re-grouped and tried something different.
I'll have a few stories about patients I recently saw in my office. And sometimes, I'll give you a quick talk on some specific OBGYN topic. I hope you'll find all of this educational, because…that is the whole point of it.
Let's get started.
Six Life Threatening Obstetrical Emergencies
Trauma and Surgery during Pregnancy
Vaginal Birth after Cesarean Section (VBAC)
Inadequate Postoperative Pain Control
Mild Pre-Eclampsia at 27 Weeks
Mild Pre-Eclampsia at 38 Weeks
Motor Vehicle Accident and Placental Abruption
Non-reassuring Fetal Heart Rate Monitoring
Pelvic Inflammatory Disease (PID)
Severe Pre-eclampsia at 28 Weeks
Twins with Abnormal Doppler Flow
Heavy Periods on Birth Control Pills
Premenstrual Dysphoria Disorder (PMDD)
Slip and Fall at 10 Weeks Gestation
---
Last Modified Jun 15, 2016 @ 8:50 pm
Last Modified Jun 15, 2016 @ 8:50 pm